Was ist die Definition of Done? Es ist ein wichtiges Thema, wenn Sie wollen, dass Ihr Scrum Team ordnungsmäßig funktioniert. Jeder im Team muss sich darauf einigen, wann ein (Product Backlog) Item als "done" angesehen werden kann. Ist dies nicht der Fall, können Missverständnisse und Konflikte zwischen dem Entwicklungsteam und dem Product Owner entstehen, insbesondere während des Sprint Review Meetings. Und das wollen wir nicht. In diesem Artikel können Sie lesen, was eine Definition of Done ist, und es werden Beispiele gegeben. Sowohl für IT-Scrum Teams als auch für Nicht-IT-Scrum Teams.
Was ist eine Definition of Done?
Eine Definition of Done ist eine Checkliste von Aktivitäten, die für jede User Story abgehakt werden müssen. Das bedeutet, dass es sich um Aktivitäten handelt, die für jede User Story gelten. Das Ziel einer allgemeinen Checkliste pro User Story ist:
Abstimmung zwischen dem Entwicklungsteam und dem

Product

Owner

darüber, wann eine User Story tatsächlich fertig ist. Klare Erwartungen sind die Grundlage für eine gute Zusammenarbeit.

Steigerung

der Geschwindigkeit, mit der die Arbeiten ausgeführt werden können. Da

durch, dass eine allgemein gültige Checkliste verfügbar ist, können

schnell qualitativ hochwertige Arbeiten

geliefert werden

.
Die Definition of Done wird zu Beginn eines jeden Sprints in der Planungsbesprechung wiederholt. Darüber hinaus wird die Definition of Done auf der Grundlage fortschreitender Erkenntnisse geschärft.
Worin besteht der Unterschied zwischen einer Definition von Fertigungs- und Akzeptanzkriterien?
Akzeptanzkriterien werden zu einer User Story hinzugefügt und konzentrieren sich auf die Bedingungen, die erfüllt sein müssen, damit eine User Story vom Product Owner genehmigt werden kann. Die Akzeptanzkriterien sind nur für eine User Story spezifisch. Die Definition of Done enthält die Akzeptanzkriterien, die für jede User Story gelten.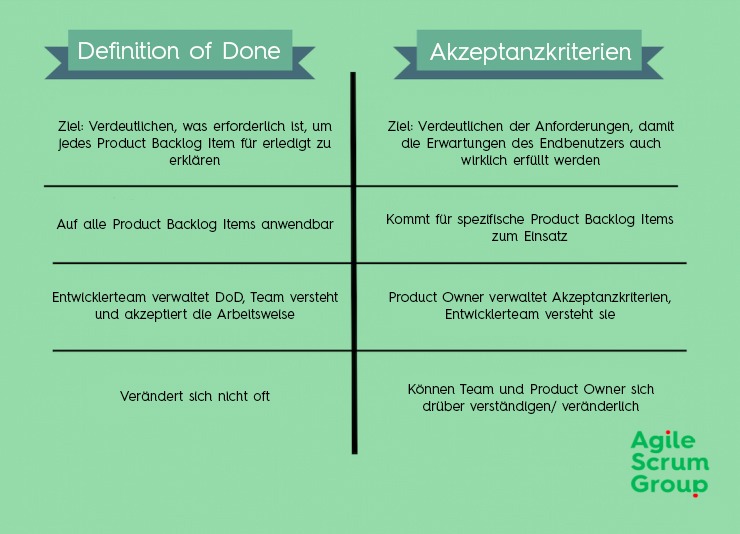 Beispiel 1 für "Definition of Done" (in einem IT Scrum Team):
Der gesamte Code ist geschrieben (alle To Do's bzgl. des Codes sind erledigt).
Die benötigte Benutzerdokumentation wurde erstellt und ist verfügbar.
Es gibt eine Installationsanleitung für die Software.
Alle funktionalen Tests wurden durchgeführt.
Der Code wurde einer Peer Review unterzogen.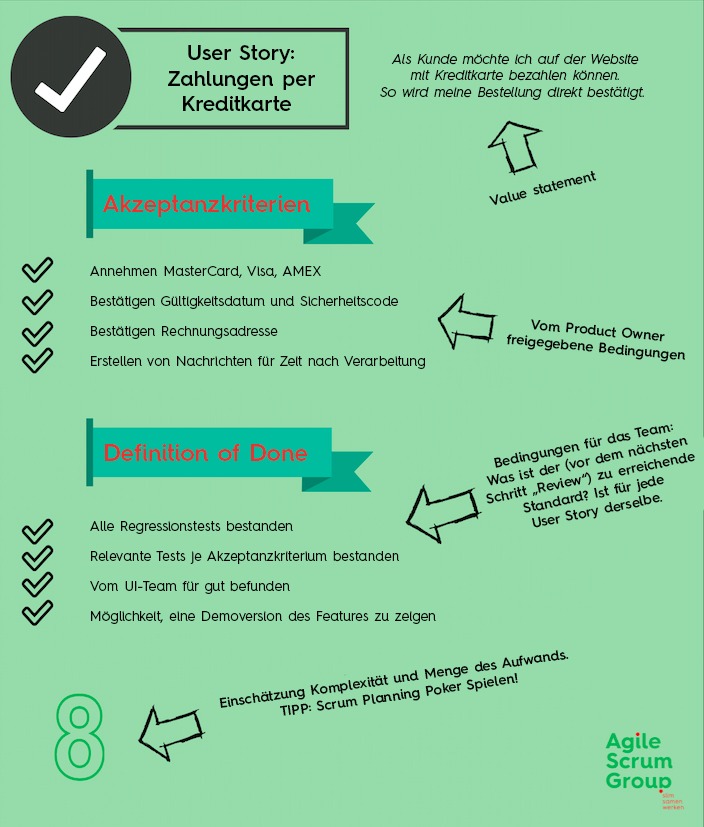 Beispiel 2 für "Definition of Done" (in einem Scrum Team außerhalb des IT-Bereichs):
Alle To Do's für die User Story sind erledigt.
Ein anderes Teammitglied hat auf die Arbeit Feedback gegeben.
Bei allen Dokumenten wurde eine Rechtschreibprüfung durchgeführt.
Das Erscheinungsbild der Dokumente entspricht dem Corporate Design des Unternehmens.
Der Compliance-Bereich hat die Dokumente kontrolliert.
Die Endbenutzer wurden gebeten, das fertige Produkt zu bewerten.